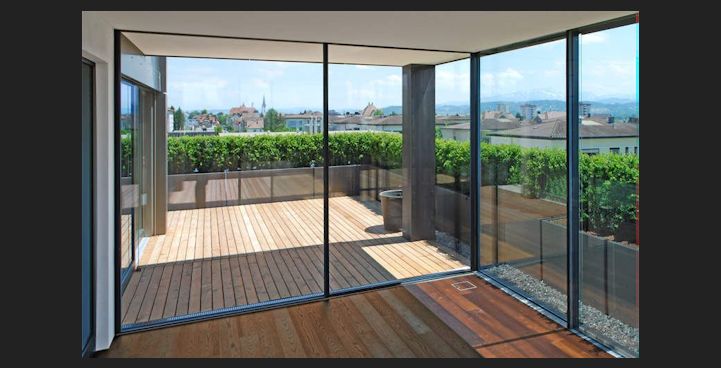 Schüco ASS77HI
What do we offer?
What is Schuco ASS77HI?
Nowe, opcjonalne rozwiązania oferują niemal nieograniczone możliwości projektowania transparentnej i przesyconej światłem architektury. Zlicowana zabudowa zapewnia eliminację wszelkich przeszkód. Na bazie 2- lub 3-torowej ościeżnicy realizowane są różne typy otwierania.
System Schüco ASS 77 PD.SI i ASS 77 PD.HI umożliwia realizację wielkoformatowych przeszkleń przesuwnych z profili wykonanych z nowoczesnego, wzmocnionego włóknem szklanym tworzywa sztucznego poddawanego procesowi pultruzji. Nowe i nowoczesne materiały i technologie ich pokrywania pozwalają osiągać doskonałe parametry izolacyjności cieplnej od Uw = 0,84 W/(m2K). Panoramiczny design systemu zapewnia maksymalną przejrzystość i doskonałe naświetlenie pomieszczeń. Istnieje możliwość wykonania przeszkleń przesuwnych z napędem elektrycznym ukrytym wewnątrz ramy i różnymi typami sterowania. 
Experience
Creating such a unique, 'barrier-free' style house is possible only with close co-operation between the architect, the investor and the glazing deliverer. Preparing the installation points carefully, having taken into account the weight of the glass, leaving some space for the drainage system, adapting the thermal insulation and ventilation are only a few of the many important factors to take into consideration. Our experience is a guarantee of a good, long-lasting investment.